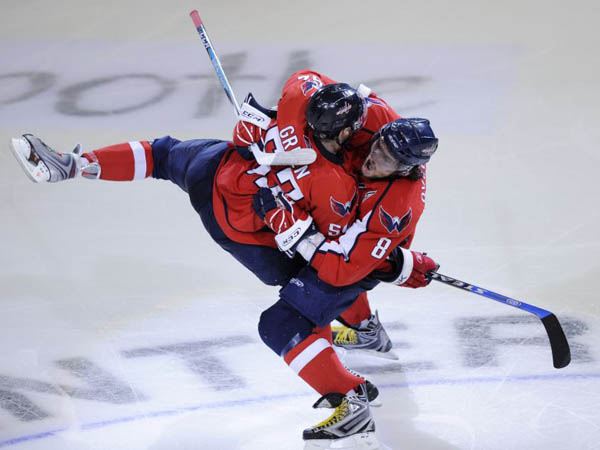 Mike Green's 2007-08 season transcends trite descriptions like "breakthrough" and wades deeper into the infrequent waters of "revelation," "grandiloquence," or even the sincere "has that ever happened before?" Green, despite sporting a brutal faux-hawk and speaking in a soft and slow mumble to the point of listener distraction, played his first complete NHL season last year. By the way, he happened to lead NHL defenseman in goals while doing it. That's an incredible feat. I think Bobby Orr led the league in defenseman goals in his first complete season, but I'm not sure anyone has done it since (I know some true greats like Paul Coffey and Brian Leetch, the two players from recent memory that remind me the most of Mike Green, did not do it).
Mike Green is probably the fastest defenseman in the league while carrying the puck. You know the guy in the beer leagues that leisurely picks up the puck from behind his own net and with a couple big strides moves up ice, head up, weaving in and out of opposing players like a pylon drill before closing in on the net and making one too many moves allowing the goalie to pull off a successful, though desperate, poke-check? That's Mike Green. Except he's doing it against NHL players. He combines ridiculous skating ability, I like to call him "crazy legs," with some high-end puck-handling skills. He has an impressive toe-drag that he isn't afraid to use on his side of the red line. All of this resulted in an 18-goal, 56-point campaign, several highlight end-to-end rushes (many of which resulted in nothing but open mouths), and the attention of the entire league. With the expiration of his entry-level deal and the ensuing threat of a massive restricted offer sheet this summer (how many teams can hope to draft and develop another Mike Green in the next 10 years?), Green was in line for a huge payday. He got it, to the tune of 4-years and $21-million. Let's look at how Green compares to some of the other top defensemen in the NHL who have just completed their entry-level deals.


Phaneuf is the gold-standard among a pretty special group here. He has now produced three stellar NHL seasons, was recently nominated for the Norris Trophy, and was only a short while ago discussed in the same breath as Ovechkin and Crosby. Phaneuf had a pretty great season last year, playing a ton of minutes at evens and on both specialty teams. He put up a decent .95 ESP/60 but more than made up for it with an impressive power play scoring rate, 4.45 PPP/60. To put that in perspective, Nick Lidstrom recorded 4.47 PPP/60. Phaneuf also played significant minutes on the PK, and the Flames were better for it when he was on the ice. Phaneuf's ES Relative Rating is .42, which is good but not great. He played decently tough minutes but with very good teammates (often Iginla and Langkow). Robyn Regehr, on the other hand, also had a Relative Rating of .42, but did so playing tougher comptetion (usually got more of the minutes against the other team's top line) and with much weaker teammates. Regehr's 5-year, $20M contract is an absolute steal.
Green's offensive numbers, driven by his skating rather than a booming shot, are nevertheless pretty comparable to Phaneuf's. He beat him with a fairly impressive 1.11 ESP/60, but came up well short with 3.28 PPP/60, which is only good for third among this group. This actually makes sense given that Green's greatest asset, his wheels, is somewhat neutralized on the PP as it is more or less a half-court game. Green got very little PK time, a wise move with the way he clears the front of the net. Green paired with Morrison behind Ovechkin and Co., which explains his high Quality of Competition, higher Quality of Teammates, and ridiculously high CORSI number. Of the remaining four defenseman, none came close to touching Green's ESP/60. Both Gilbert and Burns put up nice Relative Ratings (.50 and .93, respectively) and, not coincidentally, both of them saw significant time on the PK. Those two can both defend quite well (1.42 and .84). Burns also put up good scoring numbers: .90 at evens (good considering he's playing for Jacques Lemaire) and 4.15 on the PP. Despite not scoring 18 goals like Green, he does have high-end offensive ability that he has matched with demonstrable defensive acumen. Had he not signed his extension at the beginning of the season and instead waited for July 1 like Green, it's hard to imagine he wouldn't have received a contract in the 5M range.
One thing that appears clear from this set of numbers is that teams pay a premium for offense. Tom Gilbert, though facing tougher competition and with worse teammates, still put up respectable ES points (.98). Though he only got 2nd pairing PP time, he still nearly matched Green in output (3.01 to 3.28). Instead, Gilbert played significant PK minutes and played them well (.84 Relative PK rating). He signed his contract only a few months before Green, but got much less money for a longer term ($4M for 6-years) and gave up three years of unrestricted free agency whereas Green gave up none.
I think Green's contract is more or less appropriate given the market. The Caps clearly weren't going to get an insane hometown discount like Regehr gave up (it can't be that nice to live in Calgary, can it?), and so they did well to avoid a $6+M offer sheet, which I can only assume would have, and certainly should have, been coming. My only complaint is the term, four years is pretty short for a defenseman who's just coming in to his own and who's going to be a UFA now at the age of 26. Can you imagine what Mike Green is going to be worth on the open market then? What are teams that haven't had anything resembling a dynamic blue line presence in years (Atlanta, Toronto, the Islanders) going to be willing to pay to sign a player like Green who can single-handedly get the puck going in the right direction?